Frederick Lane ~ 13 March 2023
This C4E Digest is 2,023 words, or approximately a 8.5-minute read.
The start of week two here in Ghana. The pace of activity is picking up this week, with visits to the Cyber Crime Unit of the Criminal Investigations Department of the Ghana Police Service, some schools, and a university.
---
---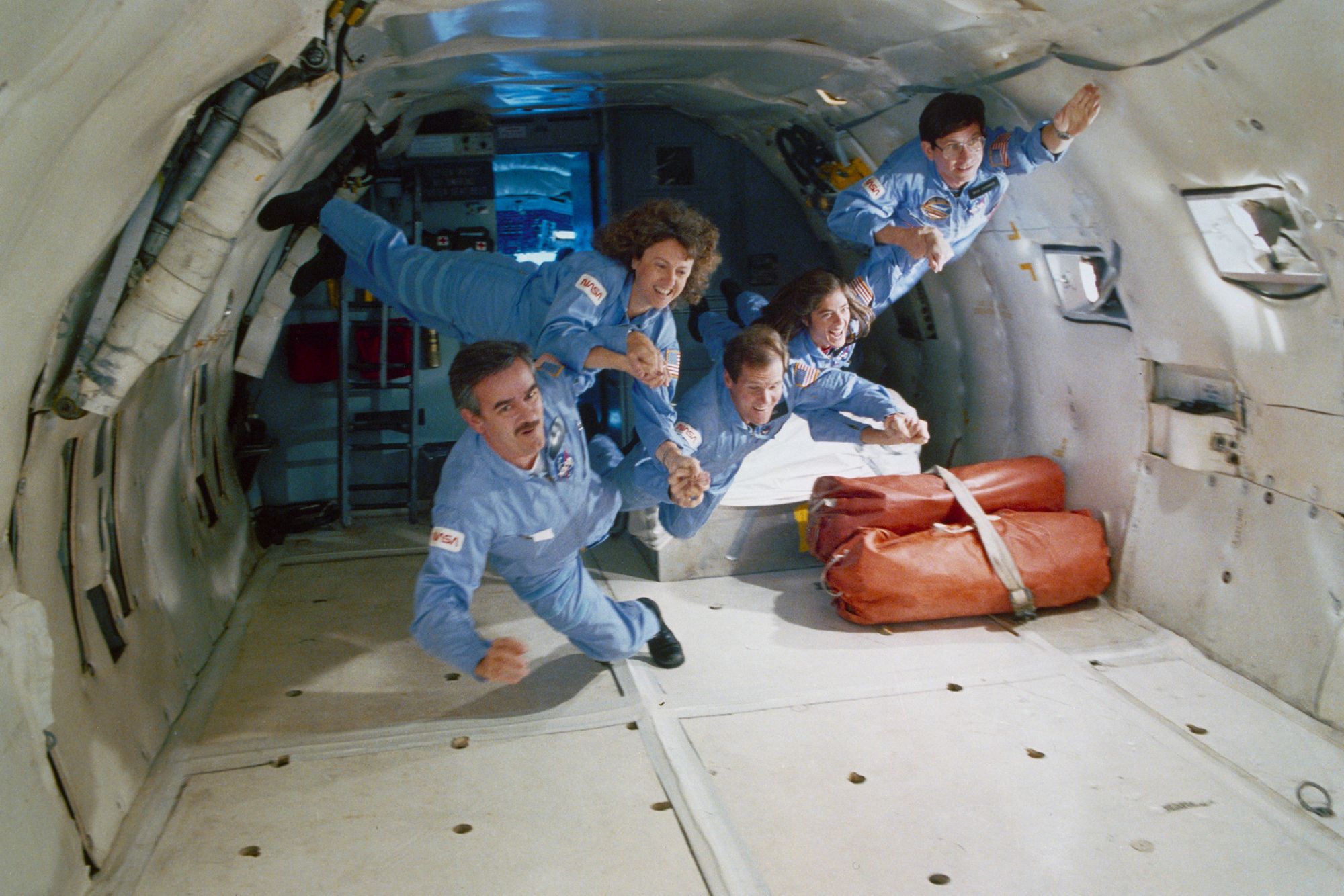 🚀 Above the Fold: "Ars Longa, Vita Brevis, Twitter Aeternum"
Two months before her death on the Challenger shuttle, a NASA photographer took a charming photo of Concord, NH teacher/astronaut Christa McAuliffe and four of her crewmates as they experienced brief moments of weightlessness on NASA's so-called "Vomit Comet."
For the purposes of this particular news summary, one detail is important: note that all of the trainees are wearing exactly the same NASA jumpsuit. Sure, you can make a guess at each person's sex, but the clothing is purposely (and pragmatically) androgynous. You'd have to do a deep dive into pulp sci-fi to find mini-skirted or dress-wearing space travelers. And of course, once NASA astronauts put on their full gear, all external clues of sex or gender expression disappear.
All of which brings us to the Christa McAuliffe Elementary School in Concord, one of the 40 or so schools around the world renamed to honor the first teacher in space. On February 14, 2023, an elementary school parent named Michael A. Gugliemo drafted an "affidavit" for Concord Public Schools Superintendent Kathleen Murphy that listed his complaints about art teacher Silas Allard (who he refers to throughout the affidavit as Mr XXYY):
I complained to the Principal of the Christa McAuliffe Elementary School about the 260 pound 6' 4 bearded cross dressing art teacher and she replied that some of her students actually identify with him. I said are you kidding me, a 7, 8, 9-year-old elementary school student told you they identified with a cross dressing art student. I went on to say that Christa McAuliffe would be rolling over in her grave to which she countered  I don't think so she was very progressive. I laughed and said this is going nowhere. She told me to complaint [sic] to the Superintendent's Office.
As extensive coverage in The Boston Globe makes clear, Gugliemo has a long criminal record, including 8 years in prison for "first-degree attempted assault on police officers" (i.e., shooting 200 machine-gun rounds at Manchester, NH police). He also is an active participant in a group called We the People NH, which claims 5,000 members who believe that "constitutional rights are worth fighting for."
The controversy is absolutely rife with potential cybertraps and teachable moments for educators. Here are just a few:
The Facebook page of Christa McAuliffe Elementary School was taken down "after it was inundated with negative comments from Guglielmo and We the People NH."
Gugliemo and other supporters showed up unannounced at Superintendent Murphy's office on February 17 and demanded to meet with her. The visitors recorded the session, which caused district staff to do the same. That is a highly-recommended step in tense situations like this.
In addition to his affidavit, Gugliemo submitted material from Allard's Twitter account that he said was "sexually suggestive" and contained references to marijuana. The tweets dated back to 2016 and 2017, when Allard was in his late teens.
A private Facebook group has been created by Concord parents to support Allard.
Following the meeting, Murphy placed Allard on administrative leave while she reviewed his social media posts (she said his clothing choices were irrelevant). After a "thorough investigation," Murphy determined that the allegations regarding his social media activity were unsubstantiated and reinstated him to his teaching position.
What can we learn from this?
Administrators: Be Prepared. Have a plan in place for unexpected confrontations (including physical security and data capture). Establish policies and standards for initiating investigations, putting educators and staff on leave, conduct the investigation, and reporting out the results.
Educators: Practice Social Media Hygiene. Anyone who joins the teaching profession should reflect on what their new position means. Among other things, it means a new status as a role model for children. Not everything that you posted as a child yourself may be consistent with your new role. Like it or not, you will potentially save yourself some grief if a difficult situation arises; the less material antagonistic people have available, the better off you will be.
Everyone: Be Kind to Each Other.
---
💡
Want to reduce the chances that your district or a member of the school community will show up in a future edition of The Cybertraps Newsletter? Schedule some timely, informative professional development by contacting me at FSLane3@Cybertraps.com
---
🟰 2. International Women's Day in the Volta Region
International Women's Day was celebrated around the globe on March 8, 2023. My host here in Ghana, Child Online Africa Executive Director Awo Aidam Aimenyah, was scheduled to speak at Tech Forum and Fair in Ho, Ghana and she invited me to attend.
The city of Ho (pop. ~100K) is located in the center of the Volta Region in eastern Ghana, about two and a half hours from Accra. About two-thirds of the way to Ho, the road crosses the Volta River near the Akosombo Dam. The dam provides hydroelectric power for the region and also has created Lake Volta, the largest man-made reservoir in the world.
A different type of energy was on vibrant display at the Tech Forum. The themes of the event were "DigitALL: Innovation and Technology for Gender Equality" and the global hashtag #EmbraceEquality.
Dr. Archibald Yao Letsa, the Volta Regional Minister, gave a keynote speech in which he promised that the Ghanain government is committed to "addressing issues of gender equality and women empowerment at all levels." Much of that work is led by the Ghana Ministry of Gender, Children and Social Protection, which has a mandate to:
coordinate and ensure gender equality and equity, promote the survival, social protection and development of children, vulnerable and excluded and persons with disability and integrate fulfillment of their rights, empowerment and full participation into National development.
A series of presentations by female students from area schools about their school tech projects made it clear that the investments already are bearing fruit.
Not only are the students learning valuable tech skills (such as coding or game design) but they are also helping the broader community. A number of them explained how they were using their expertise in project management and web site design to help boost female-run businesses in their local communities. Impressive stuff.
---
---
🗣️ 3. Upcoming Ransomeware Presentation at The CISO Summit 2023
One of the benefits of participating in the Fulbright Specialist Program is the possibility that unforeseen opportunities will arise. Here's a good example: I've been invited to do a presentation at The CISO Summit 2023 here in Accra, Ghana on March 22.
My topic for the Summit is Ransomware-as-a-Service (RaaS): A Rapidly-Growing Business Model for Cybersecurity Attacks. It's a phenomenon to which school administrators and IT staff should pay close attention.
I'll post a copy of my presentation after I deliver it, but the basic outline is straightforward. Increasingly, cybercriminals are creating ransomeware "portals" and recruiting affiliates to deploy the ransomware against the affiliate's preferred targets. This greatly increases the number of potential victims and the potential revenue for the creators of the malware.
The cybersecurity firm UpGuard has a particularly good explanation of how this particular cyberthreat is evolving. Bear in mind that across the board, cybersecurity professionals view ransomware as one of the most serious and rapidly-growing threats to an organization's data security and ability to function.
---
🚓 4. San Diego County "Teacher of the Year" Arrested
Five outstanding teachers were recognized last year by San Diego County as "Teachers of the Year" for their outstanding work in education. Now, one of them is being held without bail in the Las Colinas Detention Facility.
Jacqueline Ma, a 6th-grade teacher at Lincoln Acres Elementary School in the South Bay neighborhood of San Diego, was arrested on March 7, 2023 on "three counts of lewd and lascivious acts with a child under 14, and three counts of oral copulation with a child under 14."
The investigation was triggered when a parent told police that she was concerned that her 13-year-old child might be involved in an inappropriate relationship with a former teacher.
Just two days after Ma was released on bail, she was re-arrested by police after a brief surveillance operation provided probable cause for additional felony charges. The 14 new charges included "two lewd and lascivious acts with a minor, seven counts of possession of child pornography, four counts of sexual exploitation of a minor and one count of prevention and dissuading of a witness."
Some Useful Topics for Professional Development:
First, an obvious caution: Ma has merely been charged and is presumed to be innocent until proven otherwise.
Not every "Teacher of the Year" stumbles into cybertraps, let alone ones as serious as this. But the qualities that TOTY awards recognize--empathy, committment to students, popularity, willingness to go the extra mile--can put an educator at greater risk. As one local attorney put it, "what we know about sexual predators is that they are very likable."
The Gorilla Glass Onion: As the additional charges illustrate, an arrest is often just a speed bump in a digital investigation. In fact, things tend to accelerate following an arrest because police can usually show probable cause for the issuance of a search warrant, which gives them access to the contents of a defendant's devices. This raises the possibility that they might find additional evidence, such as photos from the victim (possession) or text messages asking the victim to remain silent (prevention and dissasion, also known as "obstruction of justice").
Administrators should remember that when this type of crime occurs, police will be taking a close look at whether anyone in the school had knowledge of the assault and failed to report. Cultivating a culture of physical and cyber safety is essential to the well-being of students.
---
📵 5. The One Where Teachers Are Racist in WhatsApp
File this under "You've Got to Be Kidding Me."
Teachers at a high school in Netivot, a smallish-town in southern Israel, took some of their students on a field trip last weekend. During the excursion, one of the teachers created a WhatsApp group chat called "School trip blacks," which several other teachers joined.
The group was used by the teachers to share disparaging messages about students of Ethiopian extraction (mostly female). But either they forgot (or perhaps did not care) that students also carry smartphones.
The students took photos of the messages and then shared them (ironically) in a school-wide WhatsApp group. The accompanying message was poignant:
It simply saddens me as a member of the [Ethiopian] community to see the lows they've stooped to today. Instead of being our teachers, serving as an example and making us feel in the safest place for us, this morning you did the opposite.
Opening a group called "School trip blacks" without even knowing that there are students behind you, to speak mockingly and disparagingly about your students? I look at the pictures and I just can't believe it came from our teachers. You are simply a shame, I'm ashamed that you are our teachers and you are educating the future generation.
The participating teachers have all been suspended and face hearings at both the school and the Israeli Education Ministry. The school's principal offered a robust apology, and Education Minister Yoav Kisch posted a video in which he said that he would show "zero tolerance to such cases on my watch."
I think the lessons of this incident pretty much write themselves.
---
📧 Have a great week, everyone. If you have questions, story ideas, or other suggestions, please email me: FSLane3@Cybertraps.com.