By Frederick Lane ~ 27 February 2023
Climate Change? What Climate Change? In the early morning hours of February 1, 2023, New York City got its first measurable snowfall of the winter (a mere 4/10 of an inch). It marked the latest measurable snowfall in a single winter season since records were first kept in 1869.
Nearly a month later, no additional snow has fallen. NYC has is now odds-on to break the record for least snow in a single winter; the record was set in 1972-1973, when just 2.8 inches fell in Central Park. A few desultory flakes are falling today and March can often surprise us but nonetheless, it's been a disconcerting winter.
---
---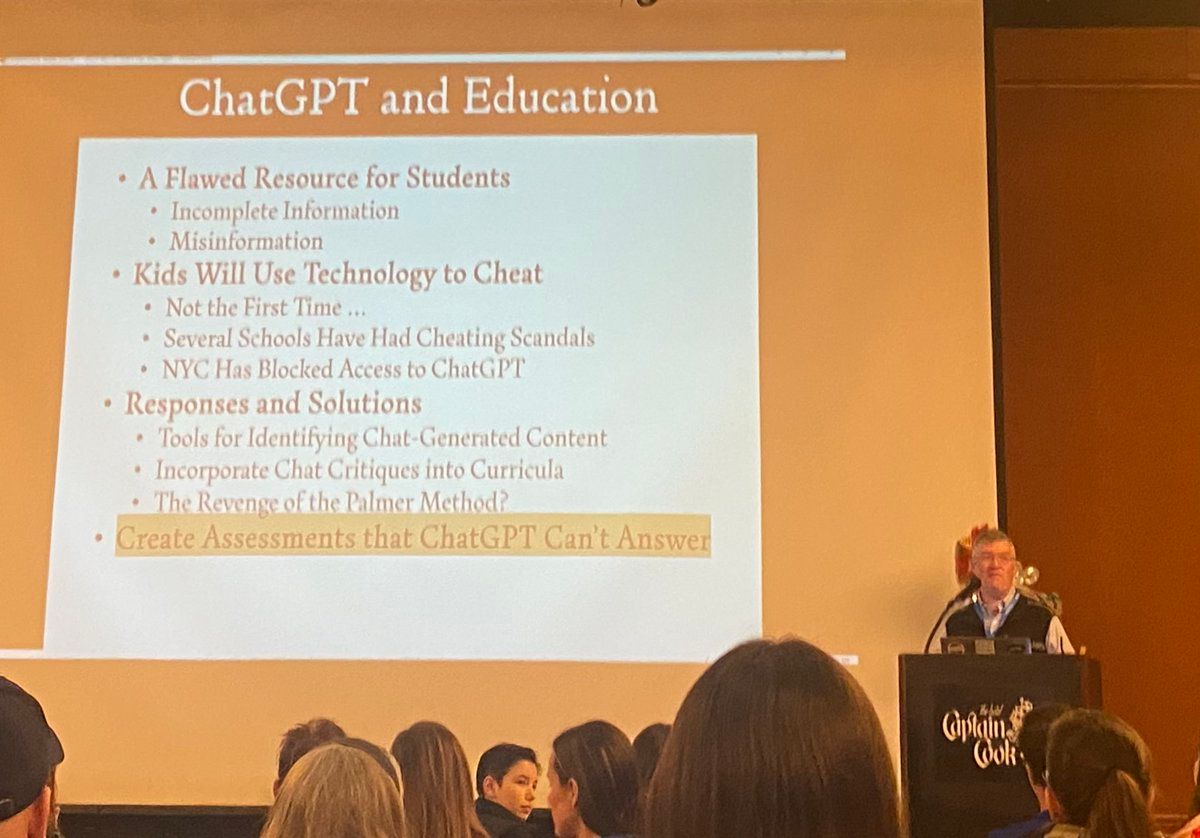 🖥️ Above the Fold: A Terrific 2023 ASTE Annual Conference
In 2012, I made my first visit to Alaska to present at the annual conference for the Alaska Society for Technology in Education. The 2023 conference marked my tenth appearance at the conference.
Under the leadership of ASTE President Bill Burr, ASTE Executive Director Susan Steele, and the ASTE Board, the 2023 conference was given the title "Education Rewired." The goal of the conference was:
to reignite the spark in education and reinvent, redefine, and reimagine the work we do. The image we want our participants to picture is one where education across the globe was stretched and flattened. We entered the wormhole one way, but we are going to come out the other side in a new dimension that is better than we could have imagined. We want our attendees to ignite that spark that led them to become an educator. Our attendees will leave feeling reignited, passionate, and reenergized!
Based on the enthusiastic attendance at the various sessions and the conversations I heard in the hallways, the conference more than met its objectives.
My role this year expanded slightly when one of the keynote speakers was unable to attend. The Board asked me to step in, which gave me a chance to put together a presentation on the hot, hot topic of the day: ChatGPT and its rising collection of competitors.
PDFs of the slides for my presentations can be downloaded from Cybertraps.com or by clicking the links below.
20 February 2023
"Bot's Up, Doc?" [Keynote]
"Cybertraps for Educators: Emerging Technology Trends and an Updated Model Code"
"Tech and Child Privacy: Can California Fix the Mess?"
19 February 2023
"The Cybertraps of Emerging Technologies: 'Deep Fakes,' Augmented and Virtual Reality, the Metaverse, and Whatever AI Has In Store for Us"
18 February 2023
"Can Social Media Be a Positive Force for Teens and Teachers?"
---
---

🔓 2. CSIA Is Here to Help!!
President Joe Biden signed the K-12 Cybersecurity Act into law on October 8, 2021. The legislation instructed the Cybersecurity and Infrastructure Security Agency (CISA) to take several steps to improve K-12 cybersecurity, including:
Conduct a study on cybersecurity risks facing K-12 institutions, including securing sensitive student/employee records, cybersecurity challenges stemming from remote learning, and how to make cybersecurity more accessible to schools;
Develop recommendations and cybersecurity guidelines designed to assist K–12 educational institutions; and
Release an online training toolkit for K-12 institutions.
15 months later, CISA has created a web site containing its "K-12 School Security Guide Product Suite." A core component of the product suite is the 3rd edition of CSIA's "K-12 School Security Guide."
Someone in your district should read the full 29-page report and do an assessment of your district's cybersecurity preparedness in light of its findings. At the very least, however, district IT professionals and administrators should discuss the CSIA's core recommendations (all contained on just one page, folks):
Create a training and awareness program at all levels of the school district;
Implement multifactor authentication (MFA);
Prioritize patch management;
Implement and TEST data backups;
Minimize exposure to known and common attacks;
Cyber incident response plans are essential.
Keep in mind that ransomware attacks on K-12 districts more than doubled in 2022 and that the number of affected districts is undoubtedly much higher, since school districts are not required by law to report cybersecurity breaches.
---
📹 3. FL Teacher Loses Job over Anti-Censorship Video
Over the last thre years, Florida governor Ron DeSantis has led efforts to restrict or prohibit the teaching of certain concepts in the state's K-12 schools.
Ban on Critical Race Theory (June 2021) -- adoption of new rules by Florida Board of Education designed to prevent schoolchildren from being exposed to curricula that "distorts historical events."
"Don't Say Gay" Bill (March 2022) -- prohibiting the discussion of LGBTQ+ topics in Grades K-3
HB 1467 (July 2022) -- mandating that all library and classroom books "go through a formal approval process with a certified school librarian or media specialist before being made available to Florida public school students."
Julia Reinstein, "Florida's School Book Bans Have Teachers 'Walking On Eggshells'," Buzzfeed News, 22 February 2023.
A teacher who provides an unapproved book to a child could be convicted of a Class C felony, which carries a penalty of up to 10 years in prison and a fine of up to $10,000.
Not surprisingly, many Florida librarians and teachers reacted to HB 1467 by removing books from school shelves or covering them up with great swathes of brown paper. Brian Covey, a substitute teacher at Mandarin Middle School, offered his thoughts on Twitter on January 26, 2023:
After getting pushback from some people in the comments, Covey posted a video the following day showing the empty shelves:
At a press conference on February 14, 2023, Governor DeSantis declared that the video was a "false narrative." Other teachers from around the state, however, have posted similar photos and videos.
Perhaps more tellingly, just three days after the DeSantis press conference, Covey was fired by Employee Self Services, the company that provides substitute services to the Duval Public Schools. In a statement, the district said that Covey had misrepresented book availability, that the video caused disruption, and that he had "violated social media and cell phone policies of his employer."
Additional Resources:
Books Unbanned, Brooklyn Public Library – Offering a free National Teen BPL e-card for students ages 13-21 across the country.
---
💡
Want to reduce the chances that your district or a member of the school community will show up in a future edition of The Cybertraps Newsletter? Schedule some timely, informative professional development by contacting me at FSLane3@Cybertraps.com
---
💰 4. Wrongfully-Charged Teacher Awarded $5 Million by VA Jury
In the early morning hours of November 9, 2018, deputies from the Loudoun County Sheriff's Office rushed into the bedroom of Kimberly Winters with guns drawn. Winters was arrested, handcuffed, given a pat-down search in her pajamas on the front lawn, and then transported to the Loudoun County jail.
The dramatic arrest resulted from allegations by a male student at Park View High School that Winters had sexually assaulted him in the fall of 2017, when he was a minor. The allegations, along with a mugshot taken of Winters, quickly spread across the internet.
Winters, who consistently denied any wrongdoing, hired Westlake Legal Group to represent her. The firm was able to show that there was no evidentiary support for the charges:
Investigations by Westlake and the commonwealth, including forensic analysis of cell phones, e-mails and internet records, found no evidence of criminal conduct with the graduate while he was a juvenile and revealed only limited contact, which appeared to be school related. When confronted with the lack of support for the allegations, the graduate's mother said she had been "bluffing," Westlake representatives said in a news release.
Following dismissal of the charges, Winters sued Deputy Sheriff Peter Roque and his supervisor, Loudoun County Sheriff Michael Chapman, for economic and punitive damages resulting from Roque's allegedly negligent and malicious handling of the case.
On February 10, 2023, a Virginia jury deliberated for just under two hours before entering a verdict in Winters's favor and awarding her $5 million in damages, including $350,000 in punitive damages for malicious prosecution.
However, as her attorney Thomas K. Plofchan pointed out, Winters will always have to bear the reputational cost of the false allegations. "You can't erase the internet," he told reporters.
The Loudoun County Sheriff's Office plans to appeal.
---
📰 5. Ghana Faces Familiar Social Media Challenges
Just before midnight on Wednesday, March 1, 2023, I'll be boarding a plane at JFK in New York to fly to Kotoka Internation Airport in Accra. I'll be spending the next four weeks working with Child Online Africa and other Ghanaian organizations on child safety and cybersecurity issues.
My research in preparation for the trip has made it clear that Ghana is facing many of the same social media issues that pose challenges for American educators and parents. Here's a sampling of headlines from the past week:
Over the next four weeks, I'll use The Cybertraps Newsletter to report on my work in Ghana. I look forward to sharing what I learn.
---
📧 Have a great weekend, everyone. If you have questions, story ideas, or other suggestions, please email me: FSLane3@Cybertraps.com.